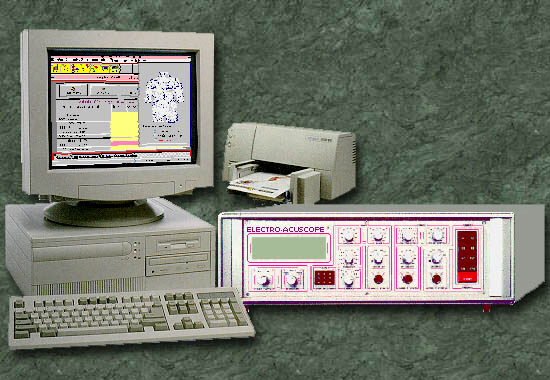 ---
Custom Design Products
---
A new generation medical equipment, designed with diagnostic and
treatment capabilities, for use in physical therapy, rehabilitation
and preventive medicine
The Electro-Acuscope 85C is a computer controlled device,
designed to operate as an independent unit, or in conjunction with a PC.
Based on the successful footprint of previous models, it features three
independent units, sectioned into three modes.

MODE-1: Complex waveform output is combined with local area
monitor for short or extended treatment applications. While timer,
frequency and intensity control the treatment, the gain spectrum
presets the treatment monitoring level.

MODE-2: High output mode, rich in harmonics is used for timed
short periods, to increase conduction level necessary for screening
and therapeutic treatment levels.

MODE-3: Multi-program mode set for diagnostics and treatment.
Four independent programs in self-standing mode allow for
auto-regulatory therapy, and reference treatments. The PC link-up
mode offers full point diagnostic capability and treatment in
one software package
The frequency and pulse are PC controlled, the intensity is a front
panel function. The data is transmitted via telemetric modules
which allow for selective decision making communication process.
The Program includes necessary patient data input and in treatment
mode tracks the pre and posttreatment results and offers a course of action.
---
EAS-85C SPECIFICATIONS
---
SYSTEM:

Power ON Control - Main Power Switch
LCD Graphic Display
Charger On and Hi LED Indicator
Fuse - 1 Amp
Audio On/Off Switch, Loudspeaker

MODE-1:

Power On - Mode selector Position-1
Gain Spectrum - Range-000: 20K to 300K
Range-999: 200K to 1M
Output - Complex Wave Form Modulated Square Wave
Envelope - Frequency Modulated Pulse train with
Alternating of Current Polarity each 1.5 Seconds.
Timer - 6, 12, 30sec. 1, 2 min. & Continuous
Frequency - 0.5, 1.0, 2.0, 4.0, 8.0, 10, 20, 40, 80, 160, 320Hz.
Intensity - 50, 100, 200, 300, 400, 600uA RMS.
Audio Threshold & Volume Control
Pink Sound - With Volume Control, Preset Timer,
Separate Trigger and Headset Output

MODE-2:

Power ON - Function Selector - Position 2
Frequency - 1 to 10 Hz
Intensity - 0 to 250 Volts / No Load
Pulse Width - 10x% change uA RMS

MODE-3:

Power ON - Mode selector Position-3
Output - Pulse train with tissue area dependent polarity -
under algorhytm control
Intensity - 50, 100, 200, 300, 400, 600uA RMS
Frequency - Tissue area dependent 1 to 1000 Hz under
algorhytm control
Programs -
Regulatory Therapy -
Odontogenic Reflex Therapy -
Setup Energetic Indicator -
Auricular Reflex Therapy -
Patient Data Reset -
Noise Filter -
Battery Monitor
Target PC Link-up Mode

ACCESSORIES INCLUDED:

Trigger Probe, Grand Ball Probe, Spring Tip Probe, Y Probe,
Indifferent Probe, Ball Long Probe, Large Hand Bars (2),
Foot Plates (2), 1x1 Mini Plate Set w/wires, 1x1 Foam Pads,
Standard tip set (4), 2mm Point Tip, Velkro Kit, Foot switch,
Coil Cords (4), Electrolyte (2), Charger,
External Transmitter, Antennas (2), Parallel Interface,
9 to 9 Pin Computer Cable, Power Module.

PC REQUIREMENTS:

Minimum requirement: 486 DX / 66MHz with 16 meg. RAM ,
Video Accellerator Card with 1 Meg Memory, Windows 3.1.
Current system installs thru Windows, but runs in DOS.
Future updates will run in Windows.