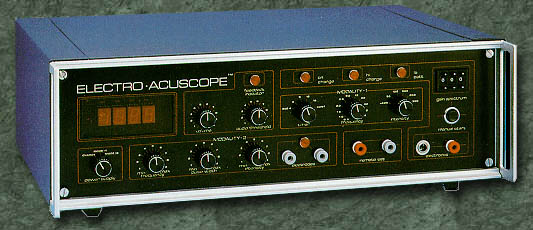 The Electro-Acuscope 80 - an instrument
with track record of two decades, was designed with
diagnostic and treatment capabilities, for use in
physical therapy, rehabilitation and preventive medicine.

The Electro-Acuscope 80C is an I/O controlled device,
designed for precise administration of treatment
in Pain and Trauma management cases.

Mode-1: Complex waveform output is combined with local
area monitor for short or extended treatment applications.
While timer, frequency and intensity control the treatment,
the gain spectrum presets the treatment monitoring level.

Mode-2: High output mode, functions as a Transcutaneous
Nerve Stimulator



---
EAS-80C SPECIFICATIONS
---
SYSTEM:

Power ON Control Switch
Main Power ON/Charge Switch
LED Display
Charger On and Hi LED Indicator
Fuse - 1 Amp
Audio - On/Off Switch, Loudspeaker

MODE-1:

Power On - Switch selector Position-1
Gain Spectrum - Range-000: 20K to 300K
Range-999: 200K to 1M
Output - Complex Wave Form Modulated Square Wave
Envelope - Frequency Modulated Pulse train with Alternating
of Current Polarity each 1.5 Seconds.
Timer - Front Panel Control - 4, 6, 8, 12, 16sec & Continuous
Rear Panel Control - 8, 15 Minutes
Frequency - 0.5, 1.0, 2.0, 4.0, 8.0, 10, 20, 40, 80, 160, 320Hz.
Intensity - 25, 50, 100, 200, 300, 500uA RMS.
Audio Threshold & Volume Control

MODE-2:

Power ON - Switch Selector - Position 2
Frequency - 1 to 10 Hz
Intensity - 0 to 150 Volts / No Load
Pulse Width - 10x% change uA RMS

ACCESSORIES INCLUDED:

Trigger Probe, Indifferent Probe, Hand Bar, 1x1 Mini Plate Set w/wires, Standard tip set, Coil Cord, Solution, Charger, Manual.